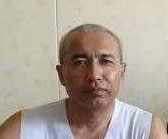 Azmat Bahti
Suspected Reasons for Arrest or Detention
Nature of work, ethnicity
Official Reason for Arrest or Detention
Unknown
Azmat, a Uyghur history Professor at Xinjiang Production and Construction Corps Teachers' College, was taken away from work in May 2021 and possibly sent to prison. This was the second time Azmat has been detained. The first time was in 2019 when he was sent to an internment camp. Azmat's sister-in-law, now based in the USA, told Amnesty International that she last spoke with Azmat on a phone call at the end of 2020. She believes that the reasons behind Azmat's latest detention are his ethnicity and his work.
She has now lost contact with her family members still in Xinjiang and does not have any information nor evidence of the charges against him, nor does she know whether Azmat has access to a lawyer of his choice or whether he can speak with his family.
Personal Details
Azmat is married and has two sons. One of them has had mental health issues after his father was arrested. Azmat is described as a responsible husband and a tenacious and dignified person. He loved his job, and in his spare time going to the gym was his favourite hobby.
Date of Birth
26 February 1973
Profession
History professor at Xinjiang Production and Construction Corps Teachers' College